Updated May 24th 2021
Starting Monday, May 24th, indoor dining is open with no capacity restrictions, no party restrictions, and no face covering mandate. We ask that you follow any CDC recommendations to prevent the spread of COVID-19, and are asking the same of our team members.
We also ask for your patience as we transition back to full capacity. In March 2020 our business model changed and while in door dining capacity was limited, Takeout sales increased dramatically. This lead to our kitchen seeing little or no difference to normal business levels. While takeout sales remain higher than pre-COVID, we may still limit dine in capacity so that we can deliver great food and service to all our guests. Available staff is also a factor here. So if there is a wait to dine in and you see empty tables, that is most likely the reason. Thanks again for your patience and support!
Updated March 2021
We're open for limited capacity dine-in service. Please note that there are still capacity limits as required by the state. You will not be able to wait inside our lobby for a table as that affects our capacity.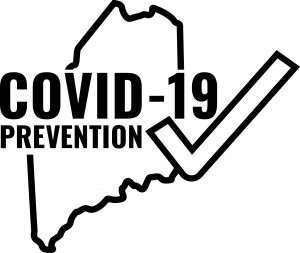 When you arrive to DINE IN please check in with our greeter at the front door or call our wait-list line. Signs are posted outside each restaurant with that phone number. We will take your name and phone number and call you when your table is ready. We will do our best to give you an accurate wait time, but with limited capacity this can be difficult to predict.
Per state guidelines we must log a contact person and phone number from each party.
Dine in service is still first come, first serve.
All guests must wear face coverings when they are not seated at a table. If you are not wearing one we will assume you have a medical reason for not doing so.
All children must always remain at the table and be supervised.
The maximum party size as allowed currently by the state of Maine is 8 people. We can NOT seat a party larger than that at one table. We will do our best to accommodate your group at multiple socially distanced tables.
Single use condiments will be provided. Straws will be provided upon request only.
All payment will be taken at the table by your server. If you are interested in some bakery goods to go please let your server know and they will gladly get that for you.
All guest areas will be completely sanitized in between guests visiting with us, and proper social distancing will be observed in the dining room.
If you are health compromised or just don't want to dine in with us yet, we still offer curbside takeout or delivery where available for your convenience! Visit GovernorsRestaurant.com/order to place your order.
Please be patient and understanding with us during this period of change. Safety is our number one priority and we will strive to do everything we can to safely serve you and your family!
For more information about hours of operation or contact information click here.
Let us know how your visit was by filling out our online comment card